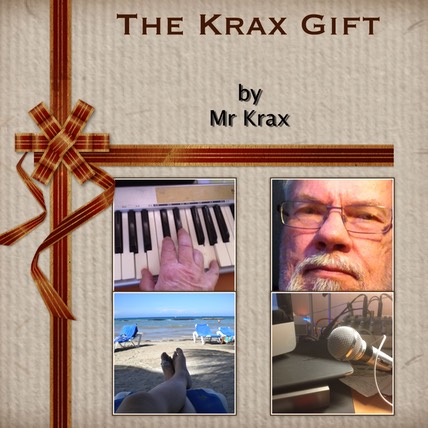 Life is what happens to us all. A great subject for songs - songs about life!
With a foundation of music from The Swinging 60s, spiced up with influences from various styles of music, Mr Krax gives you songs about life. This is music that pops and rocks with a funky blues twist! It comes from the mind of probably one of the best songwriters that no one cares about…  Learn more here.
From 2013 Mr Krax is available in the digital market. As of today there are 27 song collections in full length out there and more to come. There are also a couple of singles and EPs. Out of the large back catalogue one more song collection is waiting for release.
Visit the digital music provider of your choice and search for Mr Krax!
2015 the first song collection in Swedish language was released digitally. When singing in Swedish he calls himself  Herr Krax.
The three part suite Opus X, which was written mostly in 1974, has been on hold for a while waiting patiently for its turn. Two of the parts are both just short of twenty minutes and the idea at the time was to have them fit onto a vinyl LP, which was the standard format then. These days we will stick to streaming and download, for now at least. The third part is an instrumental Prelude that was recorded earlier but not yet digitally released. In 2024 it's 50 years since it was written and as we like anniversaries the release will take place early in 2024. Later in the year it's time for another anniversary but more about that later...
*****
Follow Mr Krax on Bandcamp
Latest news:
Are you Waiting for Krax? Well, there is a song collection coming up with that title on December 14!
*
It's time to once more open the vaults of Mr Krax! This is the second but last song collection from the back catalogue to be released in digital form. It's called "Featuring Krax".
*
The song collection before was quite a puzzling experience to put together. You could say it's like a puzzle -  The Krax Puzzle!
*
The previous release  "Krax From November" is  a bunch of songs written in the month of November . In fact the man himself was born in November and one day the idea came up to make a collection of songs written in November. So, there you have it!
*
Another gem from the vaults of Mr Krax is this one called "Krax the Fibbles" and there are 16 songs on it, eagerly waiting for you to listen!
*
This song collection  is called "Early Krax" and, as the name implies,  it's a collection of early songs written in a time when life was easy, songs were short, and lyrics were naive. Those were the days!
*
During 2022 Mr Krax made a song collection with a theme for the first time. It all began on February 24th when Russia started the aggression against Ukraine. All previous plans were abandoned and a collection of songs that in some way would fit the theme of peace and nonviolence was assembled. Some of which were not even written yet!
This is Krax for Peace!
The single "Straightjacket for Putin" is not included but it sure is a part of the concept!
On Spotify (with a slightly different picture…):
*